Nova Scotia Adventure.  Whales-Abhisheka-Warriors-Love
Franny and I are just back from a wonderful adventure in Nova Scotia, Canada.  We stretched our spiritual life by braving the "Rigden Abhisheka"   to train in an advanced Shambhala Warrior spiritual practice called "The Roar of Werma".   An inspired Sakyong Mipham Rinpoche, assisted by Acharya Greenleaf, presided at the Shambhala practice center in Tatamagoosh.
Afterwards we explored the seas and forests and whales of Nova Scotia and Cape Breton Island — that my Scottish ancestors invaded 500 years ago — chasing out Native Americans and Frenchman alike.
I have always been tickled by the idea that my Scottish ancestors were so enraged when the Romans invaded Scotland 2000 years ago, that they purportedly stripped naked, painted themselves blue and ran screaming at the Roman legionnaires [ala "Brave Heart"].   Terrified those Romans so much that they built Hadrian's Wall to keep us out of England.
The descendents of those crazy Scotts colonized Cape Breton (at the northwest tip of Nova Scotia but one group got tired of whaling and the cold and poor soil, built a couple of ships in 1850 and sailed to New Zealand!  Love those Scotts.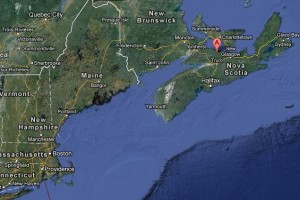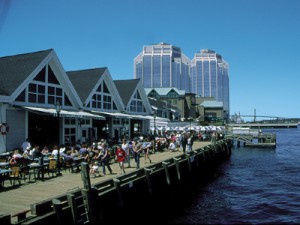 After 12 hours and flying four thousand miles east  and two thousand miles north of LA, we arrived in the lovely port city of Halifax. We breakfasted on the Halifax waterfront and then drove up to Truro on the Bay of Fundy in time for the 6:35pm tidal bore to come rushing up the river fueled by 30 foot tides. A spectacle I have waited to see for 40 years. Unfortunately, while you can surf the tidal wave sometimes,  the moon phase led to a ludicrously tiny  3 inch wave — surfed by an imaginary tiny drala.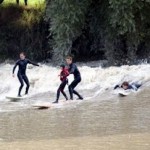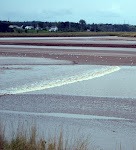 Then we drove up to the Dorge Dengma Ling retreat center near Tatamagoush.  It brought back fond memories.  Franny and I both started our Shambhala retreat adventures there with warriors assembly.  She in 2006, me in 2001. Then annual 2-4 week retreats for dathun, Sutrayana, Vajrayana seminaries.  I took all of mine and the Rigden Abisheka by 2005, and then staffed Franny's for a second and very different experience.  Franny has now caught up and we move forward together to the fabled Scorpion Seal.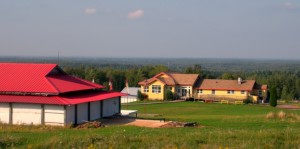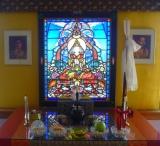 I had an auspicious meeting with Achraya Bill McKeever who led my first dathun.  I am attracted to the view that we are spiritual beings who are "brain-washed" as children into losing our connection with the infinite and into believing the delusion that we are separate fragile finite little brain-body-egos.  In whispers from his Parkinson damaged body, he explained how I could better integrate my explorations of the direct non-dual path with Shambhala and the Mahamudra retreats led by Richard John.
At the end of the retreat, Franny and I drove up and up and up the western coast of Cape Breton Island to Gampo Abbey, where Pema Chodron is in a 1 year retreat.  It is 200 miles up the rugged near deserted sea-swept coast — and then 20 more miles up a dirt road — on the way to nowhere.  Perfect place for an abbey and retreat.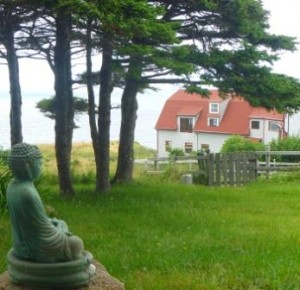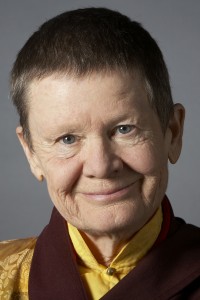 Then across the rugged island dodging moose to the northeast coast — to Cape North — where I braved the frigid water.  I surfed a couple of waves at the place where the land was claimed for England in 1497 by an Italian explorer Giovanni Cabatto (John Cabot). [Me with wet hair from surfing]
Then down the rocky eastern coast to Kalapa Valley — a deserted river valley that Chogyam Trungpa Rinpoche led a bunch of amazed Shambalians to in the late-70's.  It auspiciously came up for sale a decade later and some members bought it and donate it.  More donations helped build the Scorpion Seal retreat cabin that the Sakyong — and perhaps ourselves may use for that culminating retreat that can penetrate the illusion of time and space.  For now, just a couple of pictures by the gate.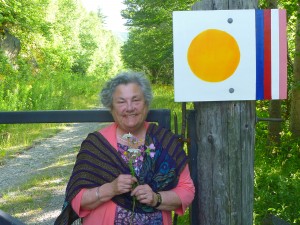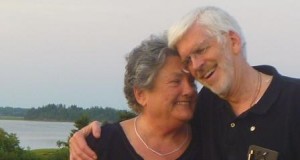 Then more trees and lakes and ferries to return to our motel at the foot of the island.  If global warming floods out the 150 million in Bangladesh there will be plenty of room in Canada's Atlantic provinces.  Cape Breton's  population is half of Long Beach – and mostly concentrated in the port city of Sydney.  In 300+ miles of driving we encountered few houses.   The next morning Franny had me drive 20 miles up the coast — and then 5 miles inland up a houseless dirt road to a farm in the forest to buy some mohair yarn from a lady that raised her own mohair goats.  Lots of trees, goats, and whales – but only a few friendly people.
At breakfast at our motel the next day, whales frolicked in the seas.  And finally the northern sun set over our inlet.  An amazing world we live in.  And now on to the next adventure.   With love, Carter and Franny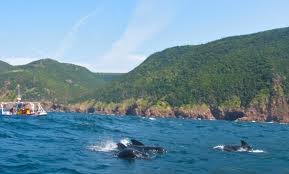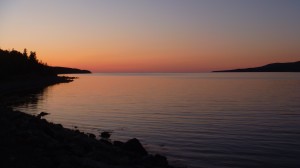 One Response to "Blog 3. Nova Scotia Adventure"